Dental Implants Information
Dental.Implants.me.uk is usefull resouce with information about various dental implants systems widely uses in dental implantlogy and cosmetic dentistry.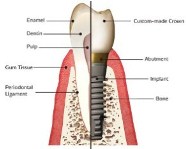 What are Dental Implants?
Dental implants are artificial replacement of tooth roots. Implants provide a strong foundation for fixed (permanent) or removable replacement teeth. Dental implants feel and look so natural that you will rapidly forget your past problems with missing teeth.
If you are missing one or more teeth, have difficulty chewing, or, simply, dentures don't work for you, implants could be the best solution for permanent teeth replacement and dental reconstruction.
Benefits of dental implants

Unlike bridges, dental implants do not require modification of healthy teeth.
Because a dental implant will replace your tooth root, the bone is better preserved.
Single implant can be more esthetic and easier to keep clean than a bridge
Improved appearance. Dental implants look and feel like your own teeth.
Improved comfort. Because they become part of you, dental implants eliminate the discomfort of removable dentures.
Improved self-esteem.
Durability. Dental Implants are very strong and last many years. With good oral care, many dental implants last a lifetime.
Am I a Candidate for dental implants treatment?
In most cases, anyone healthy enough to undergo a routine dental extraction or oral surgery can be considered for a dental implant treatment. Adequate bone in your jaw is needed to support the implant. Long term studies have proved that dental implants are a reliable dental restoration which will stay with you for a lifetime.
All on 4

The All-on-4 treatment concept was developed to provide patients with an efficient and effective restoration using only four implants to support an immediately loaded full-arch prosthesis.

The All-on-4 treatment benefits:

Stability even in minimum bone volume
Good clinical results
Prosthetic flexibility
Increased efficiency

All on 4 implants system
Nobel Biocare
Immediate Loading System (Teeth in a day)
Same day implants (also known as immediate load dental implants) are not complex procedures but they do involve fulfilling certain criteria. A crucial success factor in immediate load implants is removing the tooth effectively but without removing any bone in the process. The socket for the dental implants will be prepared with sequentially sized bone drills designed for perfect placement of the implant. The implant is placed and tested for fragility by applying suitable force with the help of a torque wrench.
This is followed by an immediate abutment and temporary crown. This process is called Osseo Integration. In the previous stage, the dentists make sure that the implant size and the bone surrounding the area provide enough anchorage for these items. An X-ray is usually taken to confirm the successful implant. The entire process takes about 15 to 20 minutes (for 1 tooth) and in 30 days patients can have their permanent crown fixed.